A return trip to Fettykil Fox in Glenrothes was a welcome blast from the past, with its relaxed setting and tasty food.
Known to some locals as the 'pretentious fox' – it's a restaurant where locals would go if they marked a special occasion – it offers something a little different from other takeaways and restaurants in town.
It's been about eight years since my last visit, so I was eager to see how things had changed and what was new on the menu.
The fox Fettykil
Located just off the main A911 road and the Leslie roundabout, there are plenty of parking spaces at the rear of the building.
As you enter the Fettykil Fox pub area, this is a place where you can easily enjoy a drink with friends before sitting down to eat in the various dining areas.
The bar and dining room both have traditional pub-style decor with lots of exposed brickwork, offering a simple, warm welcome without looking too much like a chain restaurant.
The bar area is very comfortable and offers a very good space to have a drink with friends or family before your meal. The only thing missing was a crackling fire.
Greeted immediately on arrival and given an A4 printed paper menu, probably a hangover from Covid-19 as well as the generous spaces between each table.
The friendly staff showed me straight to my table, which was tucked away at the back of the dining area and had a window overlooking the (rainy) beer garden.
I ordered a soft drink and some tap water while I was deciding what I had, and the serving staff really stood out and asked throughout if there was anything I needed. I needed.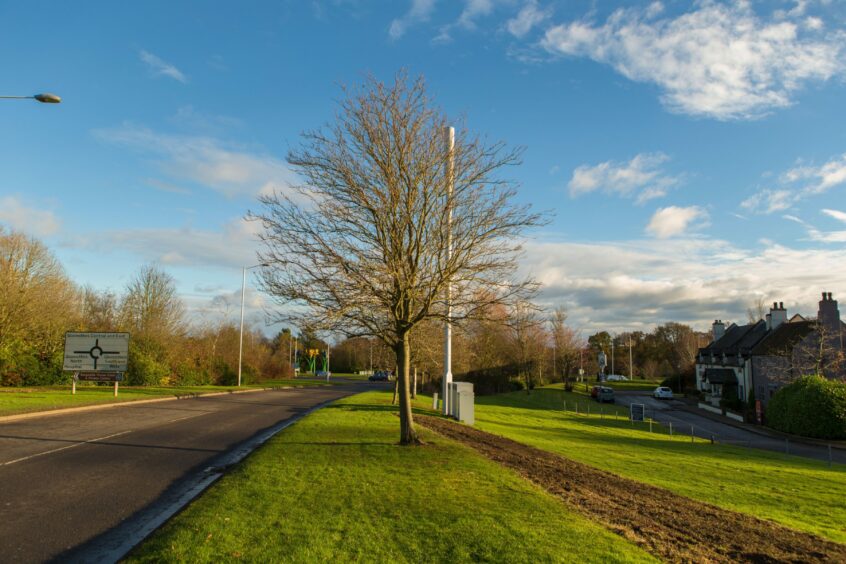 The food
The menu isn't overly complicated, but his traditional cooking knows what it's all about and will easily please locals as well as visitors to Glenrothes.
There's something for everyone and you can book in for a cozy group that will suit even the pickiest of eaters.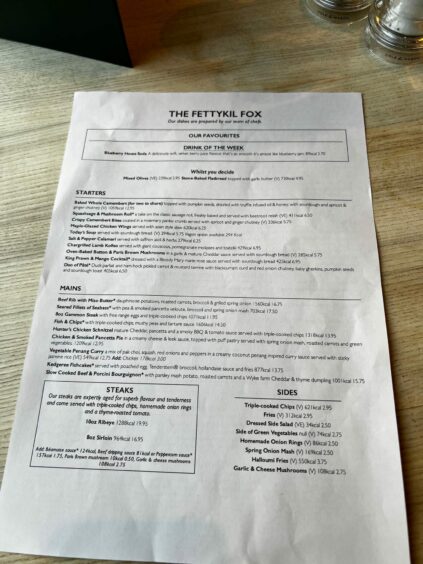 I visited during the week and ordered from the Monday-Saturday menu. If I return I will make it a point to go there on a Sunday when they serve roast dinners.
Entrees on offer included salt and pepper calamari, maple glazed chicken wings (both £6.25) and seared scallops and king prawns (£9.25).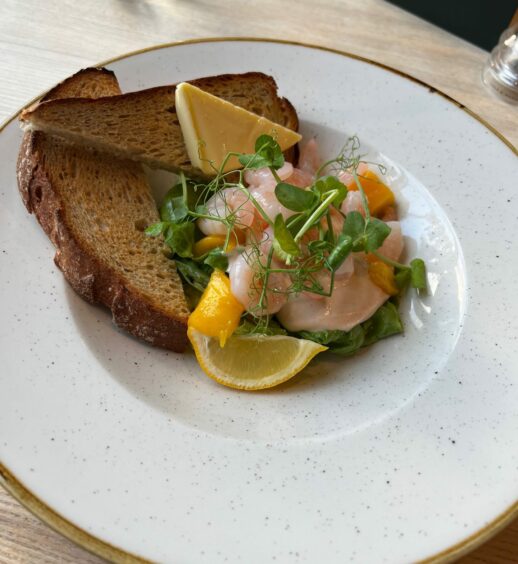 In the end, I opted for the prawn and mango cocktail with a Bloody Mary Marie rose sauce (£6.95). I love prawn cocktail but had never tried one with mango before so was looking forward to trying this.
For the main course, I was really torn between the signature burger, topped with maple glazed beef brisket and cheddar cheese sauce (£15.75) or the miso buttered prime rib (£16.75).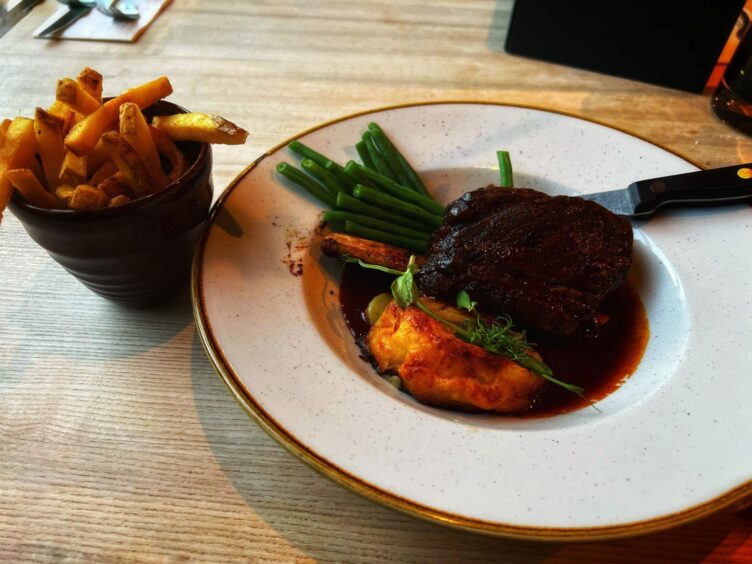 The menu said prime rib came with scalloped potatoes, roasted carrots, broccoli and grilled spring onions, which sounded good, so I chose that with fries with the skin on.
I ended up not ordering pudding and I didn't really miss it as I had lunch late the day I visited.
If you have a sweet tooth, you can choose from classics like banoffee tart (£6.95), sticky caramel pudding and creme brulee (both £6.25).
The verdict
My entree arrived quickly and was beautifully presented with warm sourdough bread. The prawns were tasty and fresh, and the sweet mango chunks brought it all together.
The only downside was the "cocktail" part of the dish, the sauce not quite delivering the kick you would expect from a Bloody Mary. Despite this, I will definitely order it again.
My main course arrived quickly after I finished and unfortunately my previous gamble of opting for the prime rib because of the vegetables that were to go with it didn't quite pay off.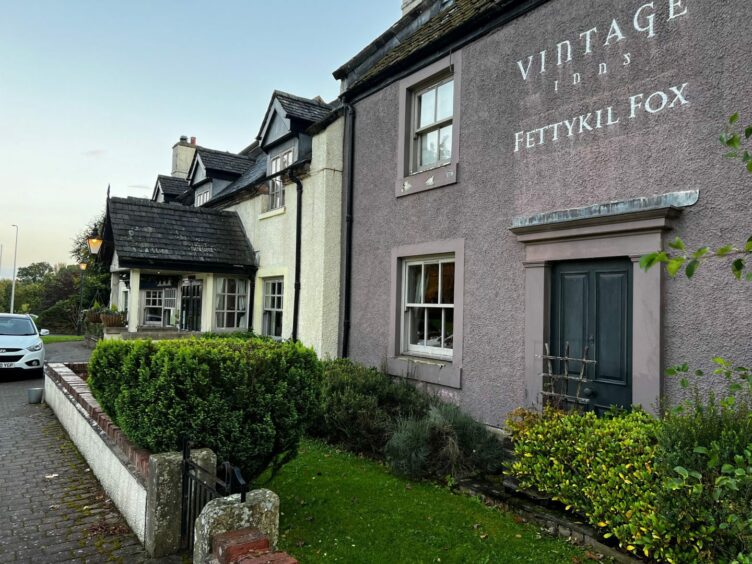 The dish lacked the carrots, broccoli and grilled spring onion, replacing them with green beans.
That minor complaint aside, the beef itself was fantastic. It was cooked very well and slipped off the bone. It also came with a healthy serving of the really tasty miso sauce, which I enjoyed.
The scalloped potatoes were crispy enough on the outside to withstand the sauce and perfectly creamy on the inside. So I didn't really regret my choice.
All in all, despite a misstep or two, I definitely wouldn't leave it that long before visiting The Fettykil Fox again.
---
Alasdair is a reporter with the Courier's live news team in Dundee. It covers breaking news across Tayside and Fife.
A proud fife, he enjoys sampling the vast array of food and drink the Kingdom has to offer.
---
Information
Address: The Fettykil Fox, Leslie Roundabout, Glenrothes KY6 3EP
P: 01592 749613
W: https://www.vintageinn.co.uk/restaurants/scotland-northern-ireland/thefettykilfoxglenrothes
Price: £30.15 for starter, main, side and soft drink.
Scoring:
Food: 4/5
Performance: 5/5
Surroundings: 4/5
Already subscribed? Login
[The Fettykil Fox in Glenrothes]
[[text]]