Ja high-end Chinese chain Tattoowith houses in birmingham, Leeds and Manchester, arrived near Tottenham Court Road station in London just as the scaffolding, cranes and general upheaval that has plagued the area for more than a decade begins to ease. The making of the new Elizabeth line has bothered Denmark Street, AKA Tin Pan Alley, and surrounding areas for a very long time. So long, in fact, that many of the 400,000 people expected to pass the brand new space age every day External network building will have no memory of the old shabby and reassuring beauty of this district. Outernet is a billion-pound concert hall, office space, luxury hotel and lifestyle mothership that has engulfed one whole block between New Oxford Street and Charing Cross Roadand its entrance is marked by poorly dressed doormen in ill-fitting steampunk-style frock coats.
I could devote this whole column to the plethora of jaw-dropping state-of-the-art solutions that Outernet will provide in central London – it has the largest high resolution wraparound displays in the world, y'all! – but I came here for the food and, damn it, Tattu had it, albeit in very small portions of wagyu tenderloin carpaccio at £34.90 a squirt. Or, say, four lovely chicken truffle dim sum shumai for £12.90, or wok-cooked 'angry bird' chicken (sweet and sour chicken with a few floating chillies for you and me) for £24.90 and just enough to feed one.
Tattu, much like Outernet itself, is big and bolshied in every way. It's less of a restaurant than an Instagram content distribution center with £9 broccoli and £36.50 char siu monkfish. It's impossible to take a bad photo here. The lighting is beautiful and several plates look like pure novelty, puffy smoke, bells and/or googly eyes. It's a lavish luxury amusement park ride studded with fake flowers imagining, according to PR spiel, a traditional Chinese court house. Tattu is the perfect spot to be photographed under an ornate chandelier while sipping a steaming skull cocktail or nabbing a plate of dim sum gau of colorful royal koi fish for £14.50.
Readers, I did it myself, posing, then posting a story of me watching a waiter unveil a chocolate "dragon's egg" under a steaming cloche, because living the "gram life" is pernicious. Ask yourself if a woman eats shiitake bao (£11.50) on a rooftop in a fake Chinese courtyard, but there's nothing on Instagram to prove it, did it really happen? It's beautiful to see, once, but there are a hundred little Chinese restaurants less than a mile up the road in, ahem, Chinatown that serve much more delicious food for a fraction of the price.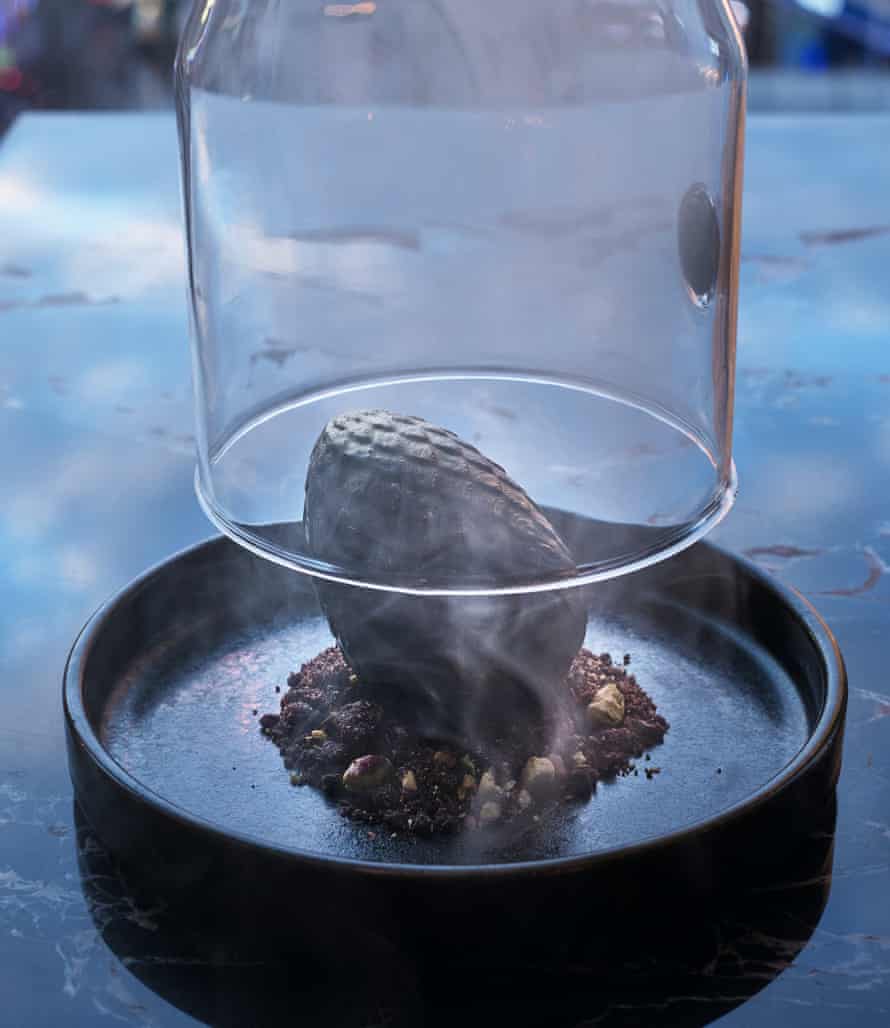 Tattu is divided into four separate residences, themed around the phoenix, koi, dragon and tiger, which means the dining room is confusing to navigate, although on the day I ate there it was staffed abundantly with the kind of people who have left you wandering around for hours looking for your table, the bathroom or the elevators without fully realizing that it is up to them to direct you. Oh, how I miss the days when the place was occupied by people who had already worked in a restaurant, but, alas, here we are.
The menu is brief and somewhat Chinese by way of Britain with South American and pan-European flourishes; it's also littered with words and phrases like "XO scallops," "salmon caviar," and "wagyu" that make you feel like you're somewhere the Kardashians would enjoy. There are a handful of dim sum options, 10 small "raw" or "hot" plates and 10 "large" plates. Spoiler: they're not big and prices run around £30-40 for lamb cutlets with lemon salt and black pepper or Chilean sea bass with shaoxing wine and smoked bacon, before flying away down to earth with £80 for green peppercorn lobster with jalapeños and crunchy shallots.
The cost is largely off-putting. I could almost tolerate giving Tattu £12 for a dim sum, and this shiitake bao turned out to be nicely wonky and moist, but had largely unmemorable innards. The delicate chicken and truffle shumai were nicely crinkled like the buttocks of little cats topped with a bit of truffle. The best thing we ate was seared seven spice tuna from the raw small plate section, premium tuna with a little smoke from the grill, truffle citrus ponzu and enough caviar to cover the forehead of a Barbie doll.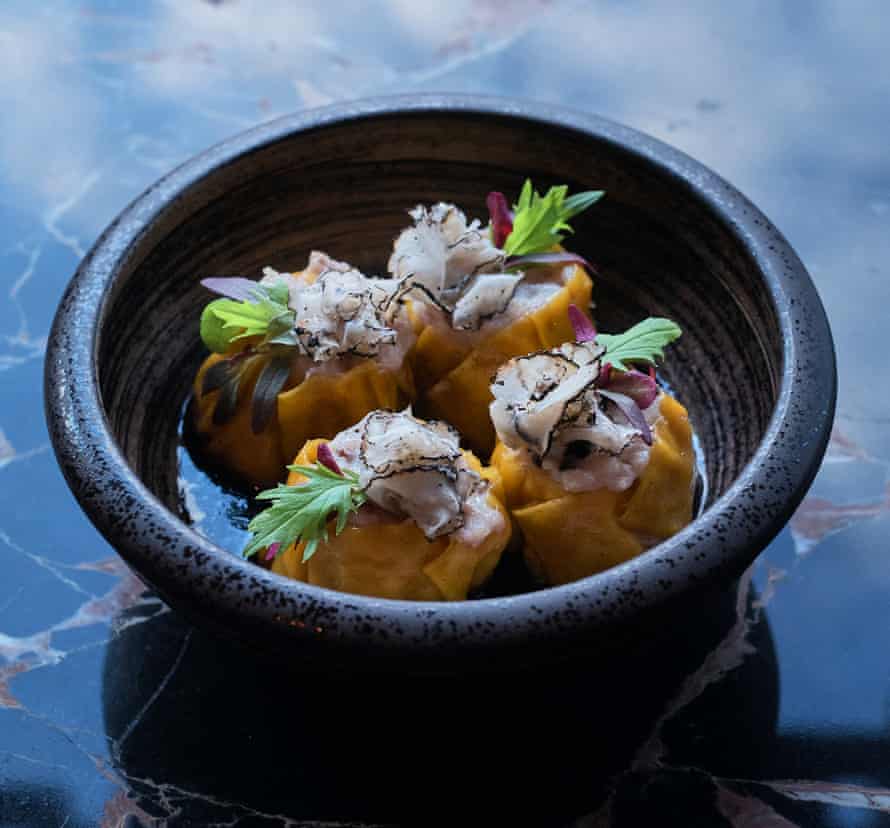 At mains, my eyes danced around the page, rebelling at the thought of handing Tattu just north of £36 for a piece of honey-glazed monkfish. It arrived, as I dreaded, overcooked to the point of dryness, in a soft caramel orange puddle. The 'Angry Bird' chicken was a bowl of sweet, bright red sauce hiding cashews, red pepper and a few pieces of chicken topped with cilantro. Entry-level Steamed Jasmine Rice costs an extra £6.50, while Beet Ginger Candy Rice costs £9. The 'wood-smoked dragon's egg' pudding came under a steamer bell jar, to reveal something Thorntons would sell after Easter for 88p and had almost no taste. Tattu as a restaurant and a bill will live in my mind forever. The memory is indelible.
Tattoo The Now Building Rooftop, Outernet, Denmark Place, London WC2, 020-3778 1985. Open all week, 12pm-10.30pm. From around £65 pp a la carte; tasting menus £80 or £120, all plus drinks and service.

The third season of Comfort Eating with Grace Dent, supported by Ocado, will launch on Tuesday, May 17. Subscribe now wherever you get your podcasts. On Wednesday, May 25, Comfort Eating goes live for the first time on the podcast show in London, when Grace's special guest is Television personality Jamie Laing. Book your tickets here.