If there's one thing the team behind The Plowman In Peterculter know, it's their clientele.
They have mastered the desires of those who frequent it and know a thing or two about serving quality screens at an affordable price.
Fish and chips is the biggest seller here, followed by a series of comfort food.
But when you have liver, bacon, and onions on the menu, along with ground meat and tatties, you can't help but recognize that some dishes are more specific and appealing to a certain audience than an audience of mass.
My boyfriend and I had spent the night before toasting our friends' engagement at Stonehaven, so I was looking for a pick-me-up that included good comfort food, and lots of it.
To start, I was only thinking of chips. Fries with scampis, fries with a pie, fries, fries and more fries.
the plowman
the plowman on North Deeside Road seemed like a reasonably sane destination to visit. Home cooking is something they've mastered and just a 15 minute drive from our place it seemed almost too convenient.
The parking lot was busy when we arrived and I immediately started to panic that we hadn't reserved a table. After all, it was 2 p.m. on a Sunday, and most like to enjoy Sunday lunch right now.
Luckily for us, Simon Cruickshank, the owner, told us they had a table, one right by the window.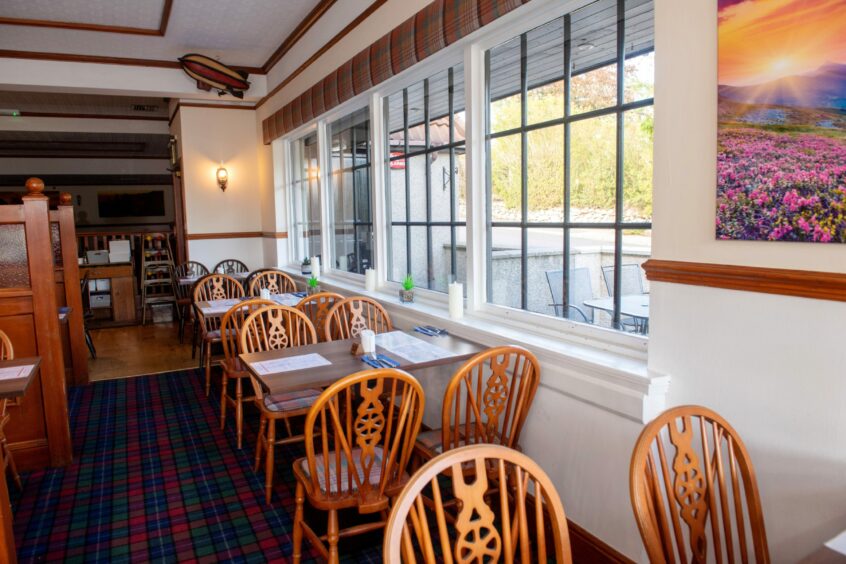 The Plowman is a bit of an institution. It's been around for a long time and is even one of my boyfriend's grandma's top hangouts. It is second only to The Marcliffe.
Stepping inside didn't seem to have changed much since the last time I was there a few years ago. Tartan carpet, wooden lights and stained glass representing a plowman and his horse on the first stand. And how can we forget the wooden owl perched on the wooden partitions in the middle of the room?
Before I even had a chance to look at the menu, it was the cheesecake that caught my eye. I chuckled when I noticed that the man who ordered it had lost the first bite to the woman sitting across from him, who I can only assume was his wife thanks to their matching wedding rings.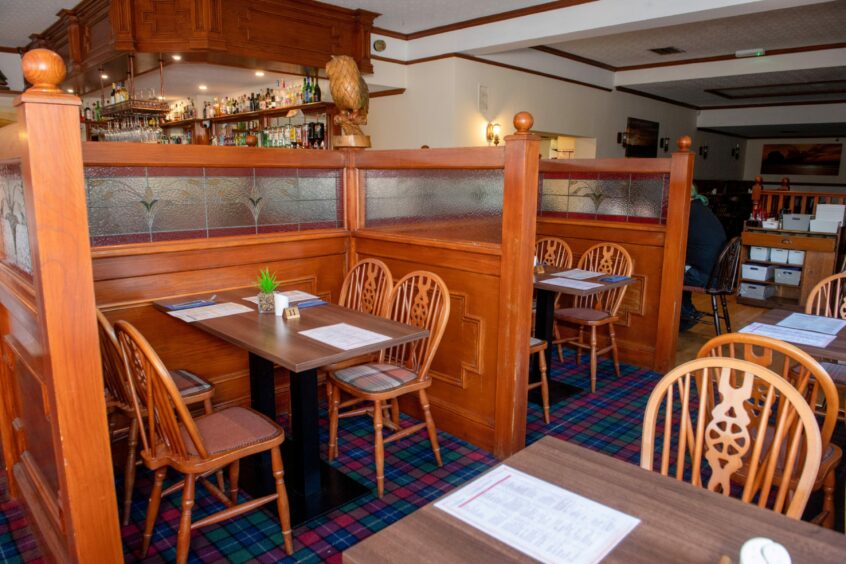 Our server recited the daily specials and took our drink order. Two pints of the fizzy stuff.
Chips were at the forefront of my mind and while the breaded fish on the all day menu sounded good, I quickly wandered off track, intrigued by the curries, pasta and grill options.
The restaurant filled up quickly and we reminisced about previous visits as the memories flooded in. My boyfriend remembers The Plowman being the first place he and his family visited when they returned from America many years ago. So used to the American way, he and Calum's brother were distraught when they learned that giant colas and bottomless refills weren't a thing in Scotland.
Speaking of drinks, when ours arrived we ordered quickly as hunger was starting to set in.
The food
Luckily our food didn't take long to arrive, with the pate and prawn cocktail being quickly placed within 10 minutes.
The chef's thick chicken liver pate (£7.40) was served with six small oatmeal cakes which were the perfect vessels for the creamy mixture – bread or toast was also optional. The flavor was really good and you could taste the brandy right at the tip of your tongue. The onion chutney was very sweet with thick cooked onion slides all over it.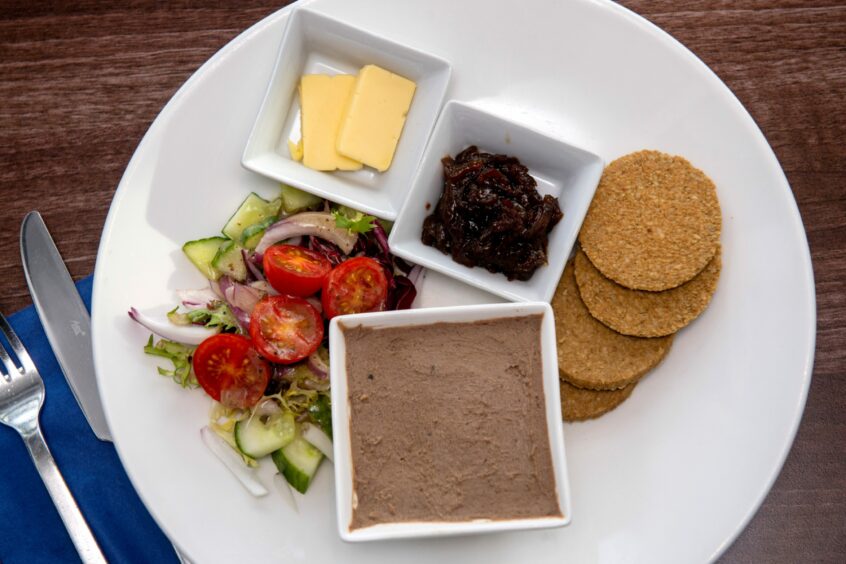 Everything was served in separate ramekins and there was a large portion of salad with dressing on the side, as well as three sticks of butter.
My prawn cocktail (£7.80) saw five large, juicy prawns smothered in a classic Marie Rose sauce. It reminded me of the one my mom makes for Christmas, especially served in the traditional sour glass. The sauce was deliciously creamy and the chef had also sprinkled with paprika. There was plenty to dress up my crisp leaf salad which also boasted cucumber and chopped tomatoes.
I used my four quarter loaf triangles to dip into the sauce, making sure every last bit was blotted.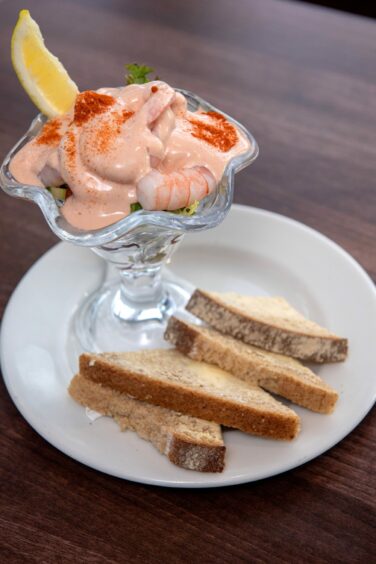 Despite craving chips, I ordered the Cruden Bay king prawn (£14.40) for main course. When I asked where the name Cruden Bay came from, the manager struggled to find out why as it was a former chef who named the dish.
Nevertheless, this lightly curried cream and mango curry was bright yellow and contained 11 king prawns. There were no vegetables which I was a little disappointed in as onions or peppers would have provided some crunch, however the prawns were well cooked and the sauce was very rich and buttery.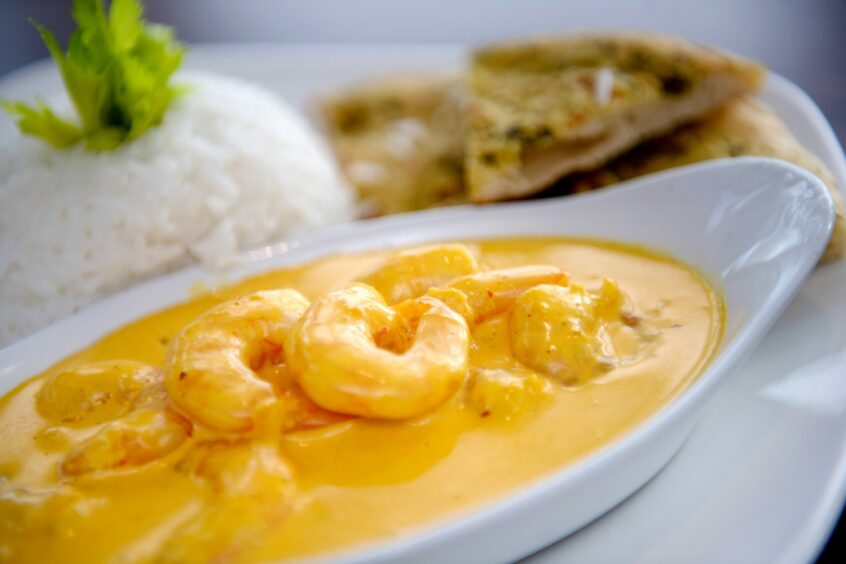 My only minor criticism would be that the dish wasn't that hot when it was served. My rice was steaming, but the three small pieces of thin garlic flatbread naan and curry, not so much. I used the naan mainly to pick up leftover sauce and picked the rice sporadically.
Across the table, Calum was making short work of his steak pie (£12.90). I love it when a pie arrives in the right dish and the pastry was nice and flaky.
The sauce was rich with just the right amount of sweetness and there was plenty of beef. A few large chunks were dry and rubbery, so he left them, but most of the smaller chunks were wet.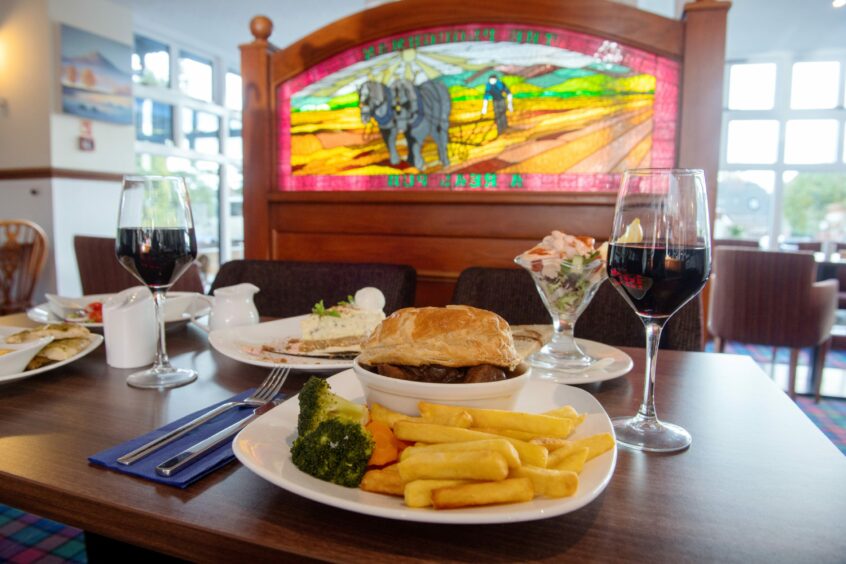 I couldn't help myself and stole a chip or two from his plate. They were your typical pub fries, soft on the inside and crispy on the outside. The pie was also served with two large cauliflower florets and boiled sliced ​​carrots.
But we didn't stop there.
Couldn't get the cheesecake (£6.70) out of my head so we ordered a portion after polishing our main courses. It was lemon the day we visited and I asked for cream and ice cream with it.
Just before our dessert arrived, I saw a knickerbocker glory being served at a nearby table in a nice nostalgic knickerbocker glass. I hadn't seen one in a long time and the memories of waitressing and trying to carry those damn things came flooding back to me. This outing was full of nostalgia.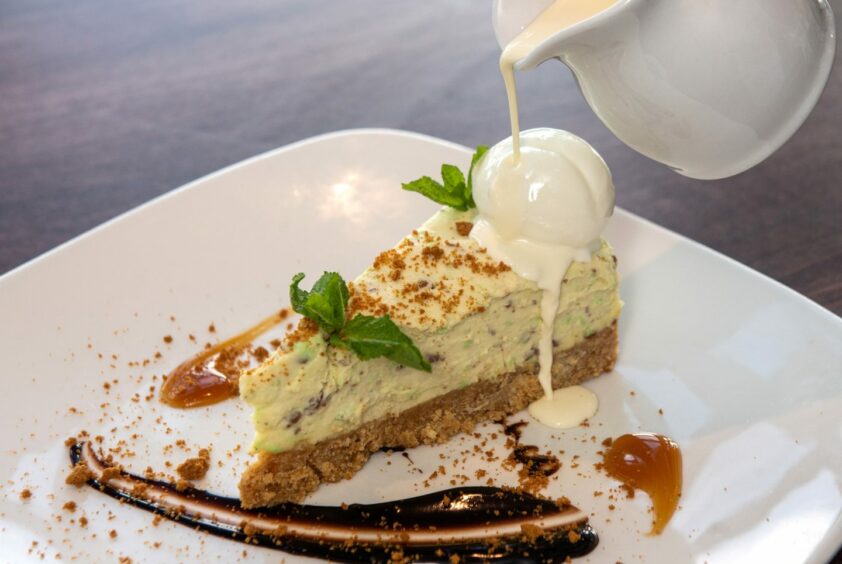 The cheesecake was sublime. Not overly lemony or tangy, and its creaminess was heavenly. The butter cookie base was soft but solid and easy to cut with my spoon. It all came together and the splash of dark chocolate sauce on the plate balanced it out. It was nicely garnished with a mint leaf and a wedge of lime, the only things left after the plates were cleared.
The verdict
The Plowman is loved by many and all ages. This place not only caters to certain demographics, it celebrates them.
Nostalgia oozes from the pores of the wooden fixtures and while it certainly knows its audience, there are still plenty of more modern dishes to keep everyone wanting to return.
If you are looking for hearty, comfort food that will fill you up for the day at an affordable price, then this is the place to go.
---
Information
Address: 40 North Deeside Road, Peterculter, Aberdeen AB14 0QN
P: 01224 733365
Price: £60 for two starters, two mains, dessert and three pints of soft drinks
Scoring:
Food: 4/5
Performance: 4/5
Surroundings: 4/5
Already subscribed? Login
[Serving up tasty nostalgia at The Ploughman]
[[text]]