The Angus town of Forfar has played a huge role in my life so there were lots of memories for me when I recently visited Sinclair's Kitchen.
My parents, and most of my family, are from Forfar, so it's a place where I spent a lot of time growing up. Saturdays were often spent visiting my grandparents, October holidays were also where we usually went for a week.
As a young journalist I also found myself in Station Park on occasion reporting on football, while a walk around the loch is a fantastic way to spend a sunny afternoon.
Another favorite thing to do there is to walk up Balmashanner Hill to the monument there. The views from the top over Angus and beyond are an absolute delight. I would warmly recommend it.
World Famous Brides
I still go there occasionally, but my culinary reason for a visit to Forfar is to go to McLaren for one – or two – of their world famous brides.
There really is no such thing as a Forfar bridie to me and it comes from a man who ate a lot of baked goods in his day. So whenever I'm in town I head straight for one of the McLaren stores.
On this occasion, however, my culinary adventure did not take me for a bridie, it was to direct me towards Sinclair's Kitchen which is located on the road to Arbroath, a few miles from the city.
After seeing the restaurant's social media posts, it was on my list of places to visit. Their food looks delicious instagram and I really wanted to know if it was as good as it looked.
I had been to Sinclair's Kitchen in one of its previous incarnations as Forrester's Seat and another restaurant whose name I can't remember. I actually took a girlfriend there on a first date many years ago when it was Forrester's Seat.
I'm heartened to see that the good food there has endured, while that relationship didn't. Anyway, I digress…
The fear you have when visiting a restaurant you've been waiting for so long is that it won't meet your expectations.
However, that turned out to be totally unfounded when we headed there on a Friday when my wife and I were out of work and our daughter out of school.
The place
Sinclair's Kitchen is a mile or two from Forfar, nestled between the Forester Seat caravan park and the fields. It's an idyllic setting and the restaurant has a lovely outdoor area which must be an absolute godsend in the summer.
The bar and dining room exude a warm and welcoming atmosphere, with beautiful stonework and woodwork. Although not when we were there as it was a beautiful day, the log burner looks fantastic and will give off excellent heat on cold winter nights.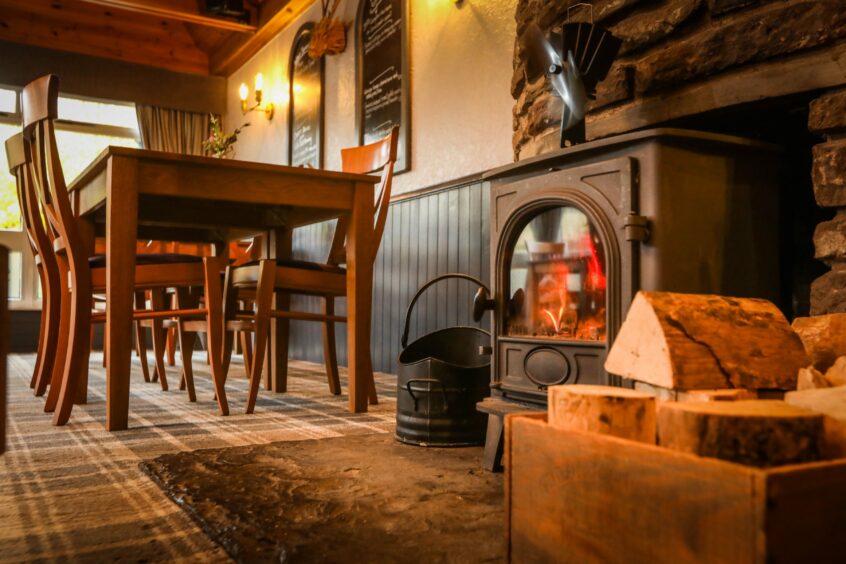 There are large windows and as the rain on that Friday morning gave way to bright sunshine, the front bar and dining area were bathed in natural light.
There is a second area at the back of the restaurant which I peeked into. It is tastefully decorated and the helpful waiter offered to turn on the lights so I could look proper.
The food
Sinclair's Kitchen offers an a la carte menu and a lunch menu. The set menu changes frequently as the chef makes the most of the best local produce available.
You can have two courses for £16 or three for £20.
It looked absolutely fabulous on the Friday we arrived and the three of us opted for the two course option.
Not being very greedy, I decided to opt for a starter and a main course.
There was a choice of soup of the day, ham and smoked cheddar quiche with salad and piccalilli or grilled sourdough smoked haddock pate.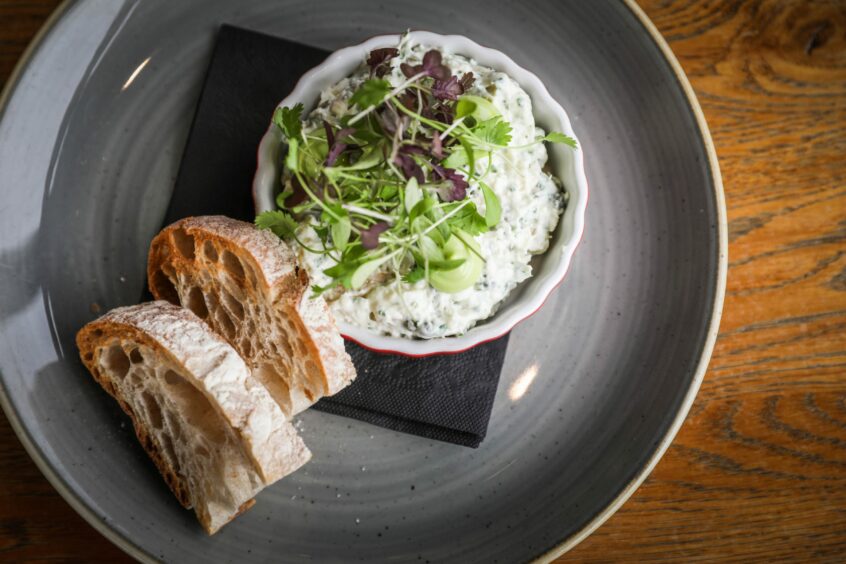 I love my seafood so I opted for the pate. Had an excellent portion of smoked haddock pate which was beautifully creamy and served with a wonderful dressing which took it to another level.
Small pieces of fish added some texture to what was a delicious starter. The toasted sourdough was the perfect accompaniment and I devoured every bit of the delicious appetizer.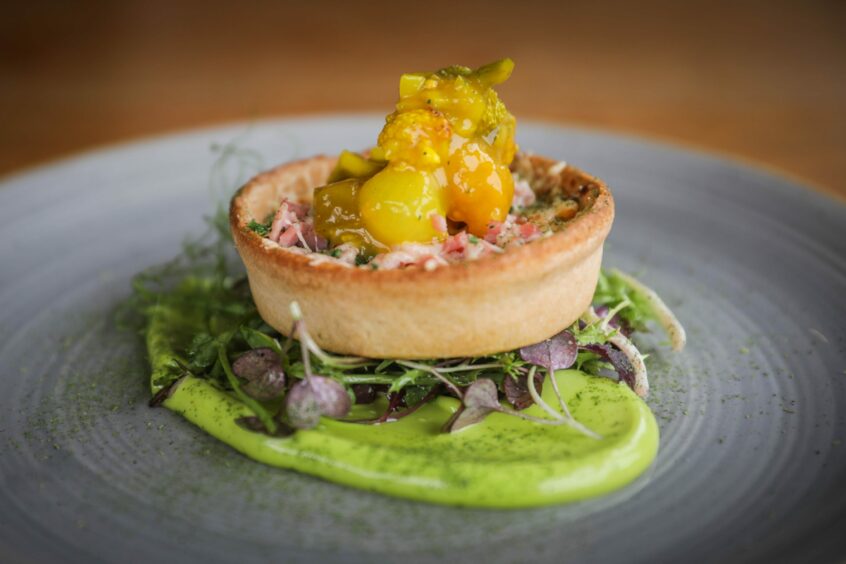 My wife, Karen, had chosen the quiche. Now, personally, I love quiche and was torn between that and the pâté – and I have to admit I was giving the quiche envious glances when it arrived.
Luckily she is a generous soul and shared some of that with me. The dough was perfectly cooked, with this crumble effect in shortcrust pastry. Inside, the smoked cheddar and ham complement each other perfectly, while the piccalilli add a nice acidity to the dish.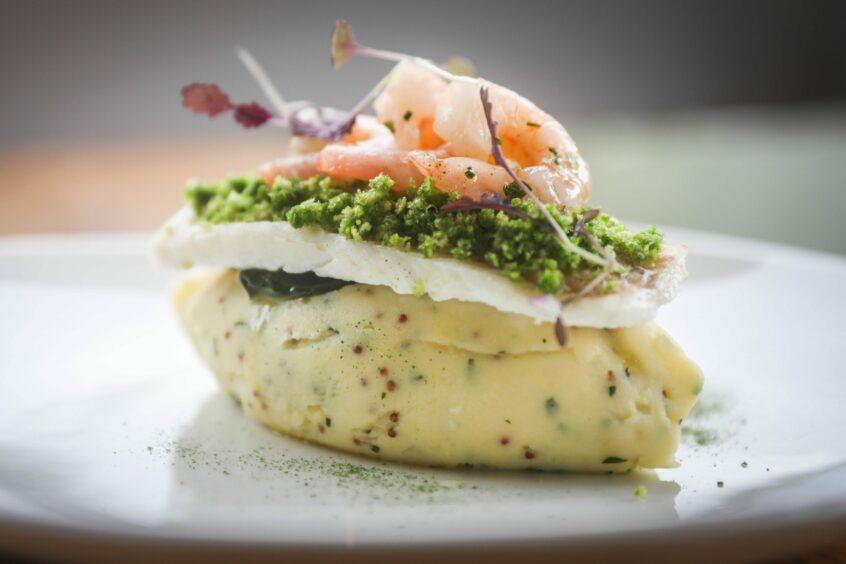 Moving on to the main course, my daughter, Cari, who had a dessert rather than a starter, and I both opted for the herb crusted haddock, herb mash and seasonal vegetables with prawns to garlic.
It was an absolute joy. A rather meaty piece of haddock was cooked to perfection and was complemented beautifully by the garlic prawns. The seafood sat on a bed of delicious herb mash that still had some texture.
Superb seasonal vegetables
What really surprised me were the seasonal vegetables. They were truly gorgeous, with an amazing flavor that was both earthy and sweet.
If I had one complaint – and that's probably just me as I like my food to be absolutely piping hot – the temperature of the dish could have been a bit higher for my liking but that was just a problem minor and Cari said she had no complaints.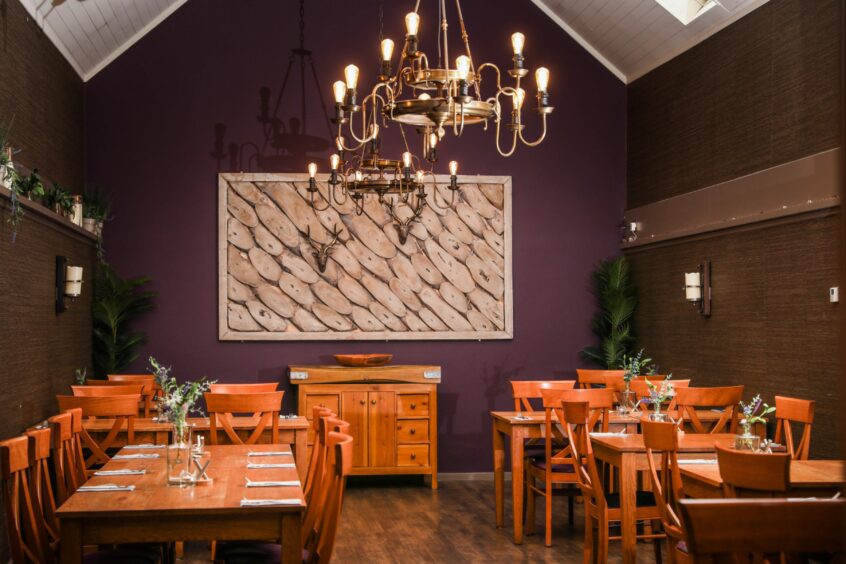 Karen had opted for the lasagna with fries, salad and coleslaw.
This dish was absolutely piping hot as the lasagne had been cooked in its own individual dish. Made up of thick delicious layers, Karen said it was an absolute delight and "really cheesy", while there was a sweetness to the ragu that paired perfectly with the béchamel.
The fries were absolutely fantastic. With the skin on and crispy, they were perfectly seasoned and Cari and I had our fingers slapped for pinching one or two. Karen isn't too fond of coleslaw, but I had a few bites of it and for me it was a tasty side dish.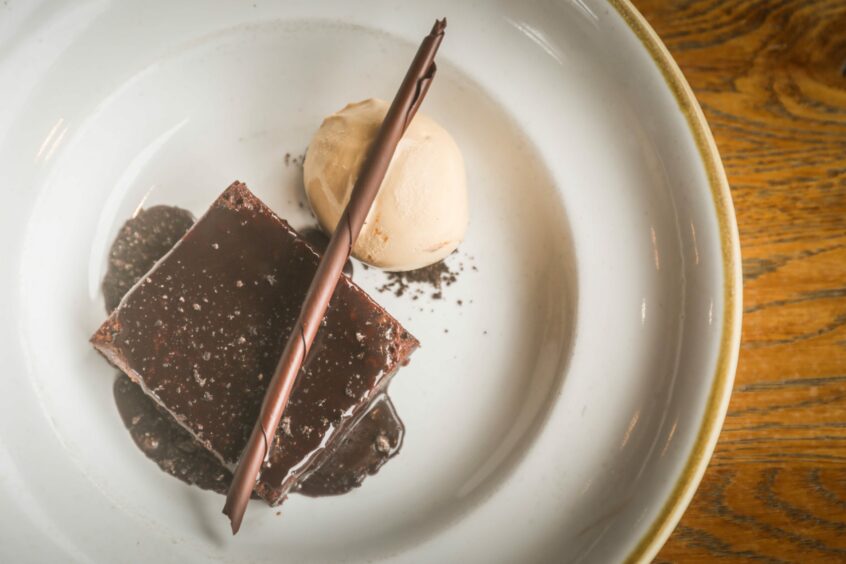 Unsurprisingly, Cari was the only one with dessert (she almost always has some) and chose the chocolate brownie with salted caramel ice cream. It actually came as a real shock as her sticky caramel pudding was also on the menu.
"Yummy" was all she said as she walked home excitedly. For review purposes, of course, I had to rip a piece out of it. It was a lovely brownie, chewy, rich in flavor and texture, rather than being mushy, which can happen – although it all depends on how you like them. Salted caramel is a fantastic flavor and this ice cream was perfect for me.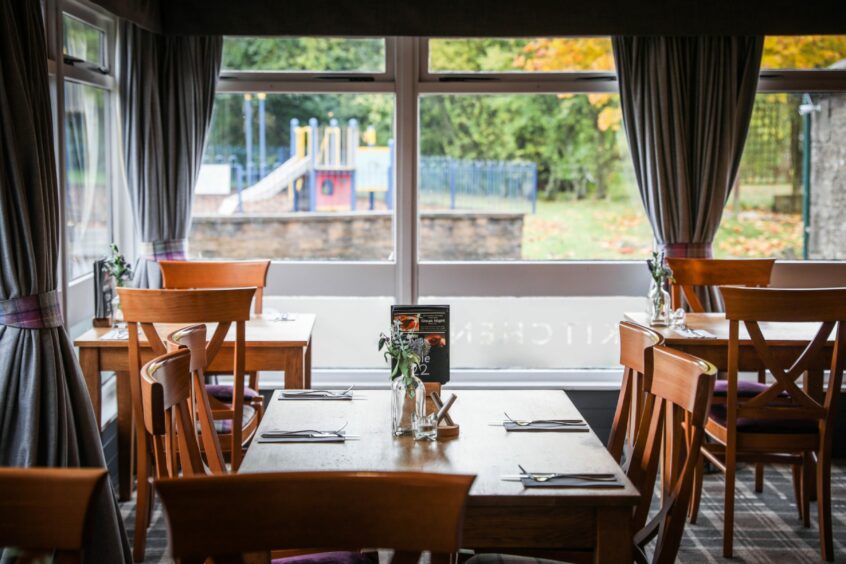 The verdict
Having had it on my bucket list for so long, Sinclair's Kitchen absolutely delivered.
They are definitely doing something exciting there and the quick lunch trade during my visit confirmed that. It's a great location and a great drive on a nice day.
The food was exceptional and I love how they offer fine dining at lunchtime mixed with traditional dishes, like the lasagne.
The set menu changes frequently, so there are plenty of opportunities to come back and sample more of their dishes, as well as the a la carte menu, which is also incredibly appealing.
It's also excellent value for money and, for me, a key part of the Angus culinary scene.
---
Information
Address: Sinclair's Kitchen, Foresterseat, Arbroath Road, Angus, Forfar DD8 2RY
Such. : 01307 818080
Price: £55.70 for three two-course menu choices and four soft drinks
Scoring:
Food: 4/5
Performance: 5/5
Surroundings: 5/5
Already subscribed? Login
[Restaurant review: There's so much more to Forfar than bridies]
[[text]]