If you're looking for a great night out among the rich and influential, as well as finely cooked and presented food at a price that prevents scum, then El Norte will make your year complete.
The passionate sound of flamenco can be heard as you pass through the warmly lit space that is The North, (you won't take shiny, shiny 'Grams here). This could be a warning horn, is someone going to start singing Y Viva Espana at any time? My dad used to do this on the downside of a fight, I always blame Freddy Laker.
Well no, because it's not cheesy flamenco muzak but the live sound of Monica Guech, a Spanish singer and songwriter who creates a fusion of soul pop, jazz and Spanish flamenco, and she's here every Tuesday night .
It's done very tastefully, non-intrusively and at just the right volume so you can always talk to others at your table. Doing things with taste and, it must be said, a little expensive, is what Arian and Alberto Zandi, co-founders of Emerald Hospitality Group and creators of El Norte, do very well.
It's lush inside, as you'd expect in affluent Mayfair, and it's said to take inspiration from the grand villas of northern Spain with its vintage upholstery mixed with low lighting which, as I said, may be bad for Instagrammers but is great for couples. Too many restaurants today light up for the cell phones, not the ambiance. The photos here are therefore provided by the restaurant.
The service is also as smooth as expected; impeccable staff dressed formally and gliding on invisible wheels, delivering heavy cloth-bound menus for cocktails, wine and of course food, then melting away with a smile.
The cocktails are certainly creative, if not always exactly Spanish, P's Passion Foam Mule – Vodka, ginger syrup, lime juice, foam, looked like a pint of real ale in a pewter mug and she loved it sharp astringency. I had Smocked (sic) Bacon Old Fashion – Rye Whiskey, Choc Bitter's (sic), Bacon, Wood Smoke which was not capped at the table to allow the aroma of the campfire to drift onto our table and d slightly alarm the people next door until they realized it wasn't really a cooking fire. There is also a bar adjoining the restaurant where you can taste their cocktail creations until 1:30 am.
El Norte's menu is pleasantly compact but still has enough interesting dishes to keep you undecided. Many are inspired by traditional Spanish plates, but inject striking modern touches. Divided into sections para picar (appetizers), ensaladas y crudos (salads and raw dishes), vegetales de temporada (seasonal vegetables), carnes (meat and poultry), pescados y mariscos (fish and seafood) and para acompañar (accompaniments) has something, as they say, for everyone.
After an elegantly simple appetizer of Almond Garlic Soup, and a few moments tempted by Calamares Fritos Con Ali Oli – Fried Calamari Rings with Lime Mayonnaise, which we know will be light years away from the standard squid rings, we opt for the tortilla de trufa to share as I like the honesty of tortillas.
These are so hard to get at home, often being too greasy, but no problem here, the plump tortilla is filled with mushrooms, onions and, of course, potatoes, with generous slices of truffle on top and, in a nutshell, lots of Manchego cheese on the side.
It's a bit more decadent than your usual tortilla, but what a great dish it is, we're actively fighting forks for the last bits. After that, we probably didn't need the two croquettes we ordered, and to be honest, the waiter warned us that we might be overdoing it, but they are worth it. Big, crispy coated, beautifully creamy inside sprinkled with jamon, with extra jamon on top because you can't have too much jamon, plus a lubricating drop of guacamole.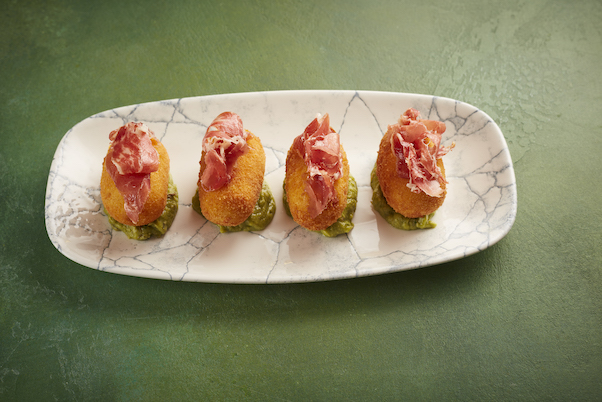 Although I love croquetas, I felt I could have taken the boat out and opted for Tartar De Gamba Roja Y Lima – Red Prawn Tartare in Olive Oil with Lime, the red prawns are a Bit rare for foodies, but El Norte gets a lot of its food straight from Spain, so they would have been good to try.
Once upon a time for my main course I would have been on Galician grilled octopus like a hungry shark. Anything from Galicia is gorgeous, but their seafood is particularly sought after. The Spaniards go there only for their gourmet holidays, because the weather, being on the Atlantic coast, is not a big attraction.
I've seen too many nature documentaries now, and I find octopuses both mysterious and fascinating. They're most likely emissaries from a superior alien civilization, whose bosses won't be too happy when they find out we fried their ambassador.
So it's Pluma De Cerdo Iberico Glaseada, Glazed Iberian Pork with Potatoes for me, a cut of pork that is the holy grail of pork in Spain. Pluma, or Pen, is a triangular shaped cut with only one available from each pig and often weighing no more than 100g. It comes from the acorn-fed black pigs that give us Iberian ham and so when you add it all up, it's no wonder it's much more expensive than beef tenderloin and much tastier.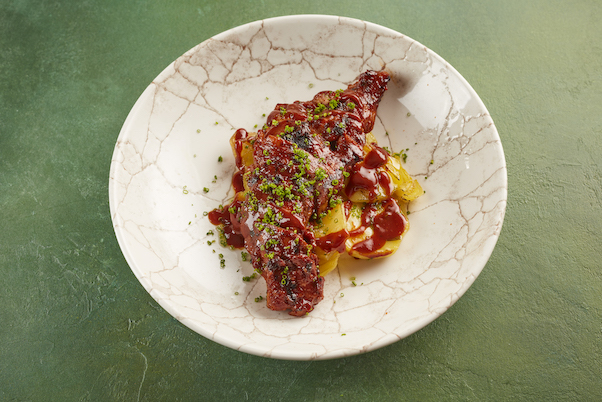 Here they marinated it overnight, before roasting and glaze it for extra flavor and sweetness. It's delicious, and the potatoes, sliced ​​and fried are enough. That said, I also have almond asparagus coated in Romesco sauce (a classic tomato, almond and paprika sauce) which adds another level of taste and texture.
If steak is more your thing, then Chuletón De Vasco Buey serves up a pound of top quality Basque ribeye, and you can't get better than that. I see one pass and I'm a little envious.
P is trickier in his choices, having Lubina Salvaje A La Riojana – Wild Sea Bass with Sweet Tomato Sauce and Red Peppers rather than meat. Again, this is a first class supply, the big fillet of bass full of its own flavor and well able to balance itself with the sauce with tightrope walking precision. P shares the asparagus and some of my potatoes, even though I try to stop him.
So after eating a lot of my potatoes, P is unable to make a dessert, so I order chestnut mousse and caramel, a very sweet dish with that unique chestnut taste that I remember from my days at scout camp, something I am now trying to suppress. That's wonderful.
And El Norte too. Spanish cuisine comes in many forms, from the dusty little tapas bar in remote villages and the now Disney-fied food of San Sebastián, to the luxury take on El Norte and it's all good (except for some of those places of San Sebastian).
If you're looking for a great night out among the rich and influential, as well as finely cooked and presented food at a price that prevents scum, then El Norte will make your year complete.
Live music is every Tuesday and on weekends a new resident DJ, Santiago Perez, is there every Friday and Saturday for a mix of house music with Latin influences.
19-20 Dover St, London, W1S 4LU